NATIONAL APPRENTICESHIP WEEK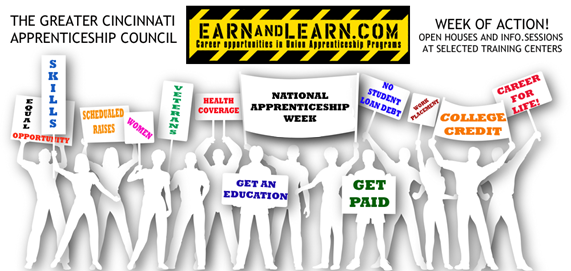 NOVEMBER 13th-19th, 2023
ABOUT THE GCAC
The Greater Cincinnati Apprenticeship Council (GCAC) is an organization of union building trade apprenticeship program directors. Our purpose is to educate the community about the value of apprenticeship and the benefits of a career in the union skilled trades industry.
---
ABOUT NATIONAL APPRENTICESHIP WEEK

National Apprenticeship Week is an opportunity for the Apprenticeship community to tell the story of apprenticeships and is an invitation to business and industry, education, career seekers, community based organizations, students, and workers to learn about the real world advantages of developing careers through adoption of the apprenticeship model.
Apprenticeship is for those who aspire to be great, lead in innovation and creativity, strive to innovate in business and industry, and recognize the value of combining paid on the job learning coupled with a substantial educational component to build generational greatness in careers and commerce.
---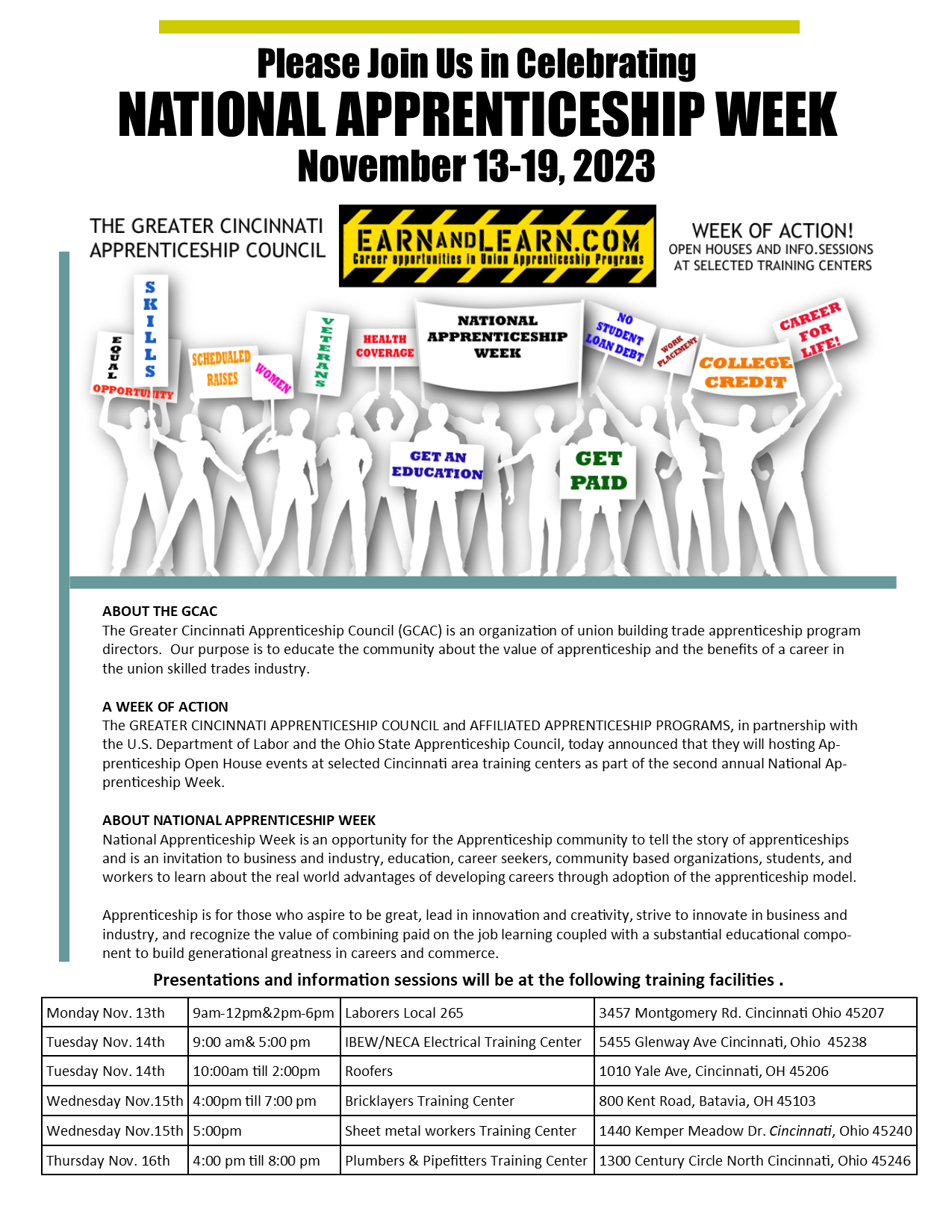 Monday Nov 13th

9:00am-12pm

2:00pm-6pm

Laborers Local 265
3457 Montgomery Rd Cincinnati, Ohio 45207

Tuesday Nov. 14th

9:00am & 5:00pm

IBEW/NECA Electrical Training Center

5455 Glenway Ave Cincinnati, Ohio 45238

Tuesday Nov. 14th

10:00am- 2:00pm

Roofers

1010 Yale Ave, Cincinnati, OH 45206

Wednesday Nov.15th

4:00pm - 7:00 pm

Bricklayers Training Center

800 Kent Road, Batavia, OH 45103

Wednesday Nov.15th

5:00pm

Sheet metal workers Training Center

1440 Kemper Meadow Dr.Cincinnati, Ohio 45240

Thursday Nov. 16th

4:00pm - 8:00pm

Plumbers & Pipefitters Training Center

1300 Century Circle North Cincinnati, Ohio 45246
2022 Mayor Aftab Pureval Presents Proclamation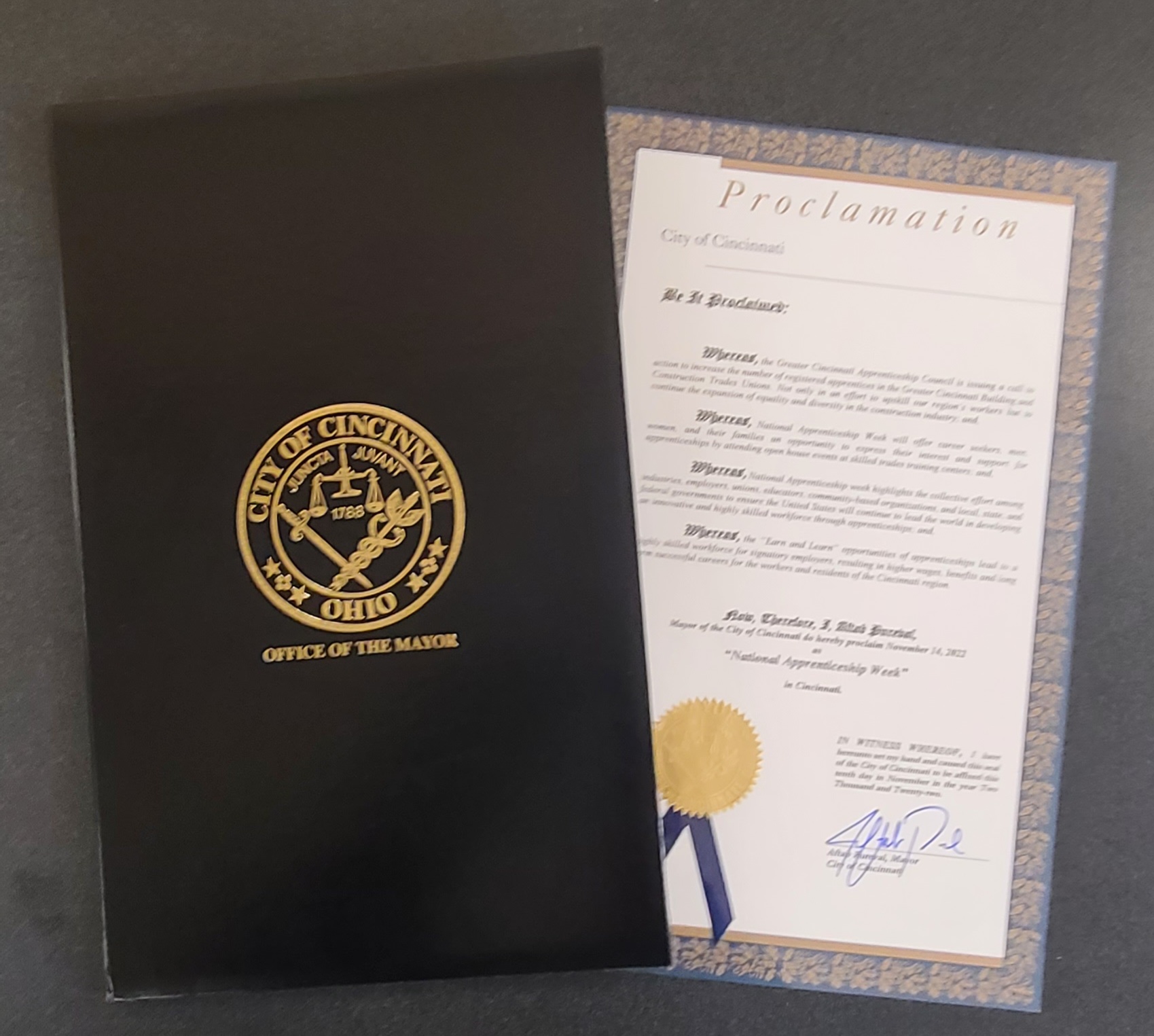 A great big THANK YOU to #Cincinnati Mayor Aftab Pureval and his office for the Proclamation in support of National Apprenticeship Week next week. The Mayor stands in support with the Greater Cincinnati Apprenticeship Council affiliates and with their Building Trades Unions and employers.

APPRENTICESHIP ?????
Ah, college... Pretty expensive, right? Yep. But it's an American institution! A cultural rite of passage! An introduction to the world of gainful employment! Surely you must go to college! But (blasphemy alert) not everyone needs to. Not everyone needs to go into debt to have a career.

Page Last Updated: Nov 08, 2022 (13:53:00)